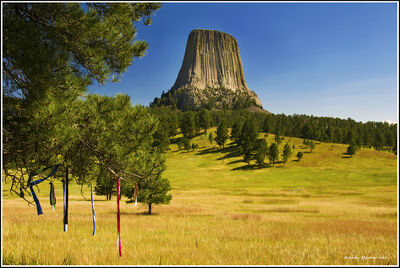 Large cedar trees loom everywhere, but the underbrush is thin and the walk is easy. Every so often, you can hear the chanting and hollering of goblins in the distance.
The Great Cedar Forest is a large expanse of woods predominated by cedars. While it is undoubtedly an old, healthy forest, it is easy to travel and the terrain itself poses little danger, other then the myriad creatures which reside within the shadows of the branches.
The forest is built over ancient elven ruins, and many fragments of worked stone and statues exist between the roots of cedar trees. The Lonesome Road also runs through the woods, creating an easy path for those who would walk it.
The woods are home to rival packs of goblins, owlbears, drakes, animals, and a legendary monster, Chickcharney the Owlbear. An elusive pseudodragon was also met here.
After the Battle of Willowdale, the Laurasian government officially declared the Great Cedar Forest a sovereign nation under the rule of the Firewalker Tribe, in recognition of their contribution to Willowdale's victory.
Points of Interest
Edit
Routes and Rivers
Edit
Lonesome Road - Leads east-west, bisecting the forest. The road ends abruptly at the Sunken Fort.