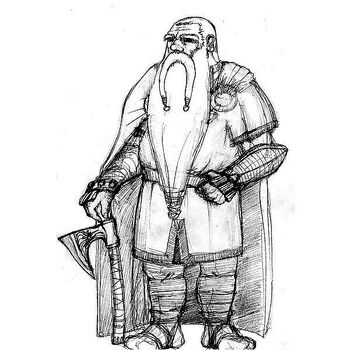 This dwarf bears many wrinkles; his great frame has been reduced with the marks of age.
A dwarven warrior ("paladin") of the Kegsplitter Clan originally from the Underdark, where he fought most notably against orcs. Yeslick was blinded in battle and separated from his companions; he wandered in the dark until eventually finding his way to Gullykin, where the halfling villagers took him in. After twenty years, his sight was restored by the combined magics of Jura and Dr. Haiduc. Yeslick returned to Willowdale and resided for some time in the Boar & Thistle. With the help of the Pathfinders, he returned to the Underdark in the month of Ches and has rejoined his fellow dwarves in the Undermountain Inn. He since accompanied the Pathfinders in a diplomatic expedition to the Dwarven Fortress in the Trollveggen, and offered to accompany the Pathfinders in their rescue mission in Char Nassed, though they declined the latter offer.

Yeslick fought on the wall at Battle of Willowdale, using his original armour and axes. He was wounded during the battle and is now using a cane for mobility.